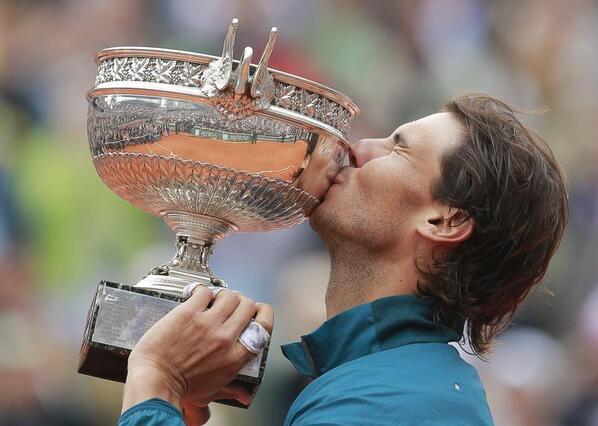 Nadal clinched his 8th clay title out of 12 grand slams title, did so by defeating fellow Spaniard 6-3 6-2 6-3 in straight sets, becoming the first man to win same major 8 different times...
Nadal has been pretty impressive after his comeback from injury, making 9finals in 9 tournaments and winning 7 out of 9, he is now 2 grand slams shy away from pete sampras 14 titles, and obviously the favorite for the two remaining grand slams of the year, which is wimbledon and Us Open...


The King of Clay reigns again.



Rafael Nadal won his eighth French Open with a straight-sets victory over David Ferrer on Sunday, giving him the record for the most wins at the event. Chris Evert was victorious seven times at Roland Garros.



Neither player appeared comfortable in the early going, but Ferrer won the first handful of games despite some misplays. Nadal quickly settled in, though, and took the first set 6-3. His momentum carried him to a 6-2 win in the second set. Nadal prevailed in the third set 6-3.



"That's more than I even can dream about," Nadal said after the match of his eighth title."He's playing unvelivable tennis," Ferrer said of Nadal after the match. He added, "I need to improve my volley. I need to finish the points from the net, and today, I didn't do it."



Nadal won his first French Open in 2005, then successfully defended his title through 2009, when he lost to Robin Soderling in the fourth round. Nadal regained the title in 2010 and kept it through this year. With his 12th grand slam singles title, he trails Roger Federer, who has 17. Margaret Court holds the record for the most wins at a single grand slam event. She won the Australian Open 11 times from 1960-73.
http://www.nbcsports.msnbc.com/id/52148421